IK5PWC's story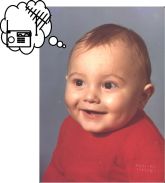 Thinking to radio....
IK5PWC, alias Luca Civinini, is one of the 30000 italian hams. I was born in March, 1974 in the city of Prato, a blooming city in the central part of Italy (in the Tuscany region). I always has been attracted from any kind of electric/electronic devices: my motto is "Does it use electricity? No, so I don't care.."; when I was a child, I preferred to play with wires and cables than typical children toys (sounds strange? Probably because I'm strange!)
The first radio I played with (ehm, play = destroy ...) was an old tubes radio in my grandmother house when I was little: one day, me and my cousin decided to open (ehm, open = gut) it to see what there was inside. As you can imagine, those tubes didn't see their lights again... Today, I remember this as a true criminal act.
Some years later, I get in touch (this time without destryoing...) with a radio again when my uncle, a truck driver, bought a CB radio for his truck: I get stumbled from those multiple voices coming out from that little black box.. And you can also talk with them! My radio passion was born and never left me...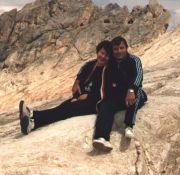 Thanks mum, thanks dad!
When I was 12, I got my first CB radio as my Christmas present, starting my adventure in radio: at the beginning, I got a simple car antenna mounted in the balcony, then I installed a TRUE balcony antenna and finally, after some months, I conviced my father to install a real antenna on the roof. When I think to those days, I need to express lots of thanks to my parents which always supported the strange hobby of their child: specially my father who helped me (and still helps me) a lot to install my antennas since I was too young to go on the roof and do all the job myself.
After a couple of years, I started to look at the beautiful hamradio world: I was still too young to get my license, but I could listen. I got in touch with Edo,IW5AXC, a my father's colleague, who borrowed me a Grundig Satellite receiver with an external BFO to listen SSB transmission and took me to the local ham club.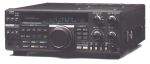 Great listens with R5000!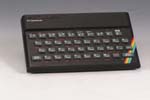 toghether with Spectrum!
At the end of my first year at secondary school, to award my good results, my parents faced out the first big expense for my hobby: they bought me a wonderful HF receiver, the Kenwood R-5000. I began to listen all HF frequencies, starting from HAM band and then moving quickly to digital modes (RTTY and HF FAX): it was so exciting to receive press agencies all over the world, specially ones in USSR (there still was the cold war, altought it was near the end), Libia, Iran and of course Italy as well as the weather maps. To decode those signals, I used the most user-friendly computer and software I've ever seen: the ZX Spectrum together with G1FTU programs. Many years before Sound Blasters and DSP, you could simply plug-in the receiver speaker output into the cassette recorder input on the Spectrum to be able to see RTTY and FAX, using G1FTU software.
Thanks to Edo, I decided to try to pass the exam for the ham radio license: I studied the theory on my own and attended a CW course at the local ham club. My instructor was Flavio, I5BDE (now SK), who also teached me the ham radio etiquette. Again, thanks Flavio and Edo for your patience. On July, 1990 (the same year as the world football champion in Italy), at age of 16 I tried the examination: the morse code test was quite simple while the electronic part was much more heavy (at that age, dB and logarithms were complex objects!). But, with my big surprise, I passed the exam e gained my second name, IK5PWC.
I decided to study Electronic at University: finally, after many years playing with electronic circuits, I got a deeper knowledge on what's going on inside resistors, capacitors, coils, transistor, etc.. and how to put them together to perform a specific task.
Towards the end of my student career, I got in touch with computer science: of course I knew computers (I got my Spectrum when I was 9), but until then I considered them no more than a tool. Usually, at school you learn how to program them and I never liked too much writing code. But computer networking is a whole different world! I was so fashinated that decided to spent my time learing how network protocols work, specially on the logical side (i.e. TCP/IP): as an ham radio, I'm interested in communications and computer networking IS communication! Moreover, I found out that every computer needs a basic set of software (known as Operating System) to work and started to look closely on how an operating system works. Probably, this is what I really wanted to do in my life because, when I was 6, I spent a whole day looking my father's secretary working on a big Honeywell computer: suddently, the girl asked me "Would you like to know how to use it? and I replied "No, I'd like to know HOW IT WORKS!".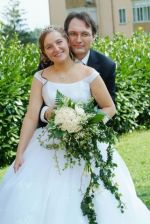 Me and Mila
Today I work as a computer network architect and systems engineer in the Windows world (yes, it sound strange that this web site is running and was developed on a Linux box). For me, this is not only a job but my second passion: quite often, when I get home after being all day in a computer room all around Italy, I still like to sit in front of my PC and play with my home network, trying to learn something new.
In late 2005, I got married with Mila who, in spite of my strange way of life, wanted to share her life with me, my radios, my antennas and my computers (in the past, Mila also took part to a VHF Contest from Marmolada, one of the highest mountain here in Italy - and she hates mountains!). On the other side, I found in my house 1 cat and 5 parrots: for sure this is just the beginning since Mila is an animal lover (otherwise she couldn't marry me!)
By the way, since I got involved into computer operating systems and networking, I changed my motto: "Does it use electricity, there are bits moving or tasks running? No, so I don't care...".